Brain Shift is Perseverance's 2nd Epic Effect card added in Beta 11.0 during the Undercards 1 year Anniversary. Previous Versions can be found here.
Since Beta 43.0, it lets you choose an enemy monster. It will then attack a random other enemy monster on the board, an ally of itself. This still takes in any abilities normally, and can result in both of them getting KR, making it an effective card for damage, anti-board control and KR spreading.
Card Skins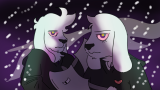 Dogs Possession (by Oranjican)
Trivia

When it came out, it was a bit bugged as it wouldn't show the damage it did despite it actually damaging the enemy.
The image shown on the card is used for the background during the fight against Asriel Dreemurr.