Effect updates and description changes can be seen here. There are quite a lot.
Burgerpants is a good card if you want to get some money in your pocket. He gives you 9 gold when placed, which will end you up with a 3G profit. However, it will also give 4G to the enemy at the end of that turn (which as of Beta 51.0 has the keyword Delay), so be careful.
While it may seem like a huge issue to give your opponent money, you can use Burgerpants in a Bravery Deck in order to have enough money to finish your opponent off.
Keep in mind that if you combine this with Mettaton EX, the enemy will still get their 4 gold from Burgerpants' effect.
Burgerpants himself isn't a good card on his own, with just 2/2, so you can use him as a disposable card. You can for example use him to damage a monster in order to let Asgore finish it off. You can also place Taunt on him with Glad Dummy for some minor extra defence.
While Burgerpants is best used in a Bravery Deck, he can be a good asset for any deck. However, other cards such as Lesser Dog are arguably better.
Card Skins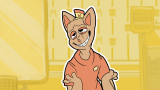 Trivia
His first Card Skin and Avatar was originally called "Employe of the Month" (which had a typo).