Previous Versions can be found
here
.
Doggo is a decent monster for most decks, and incredibly useful in specialized ones, such as control decks. Its ability is to return a card back to the user's hand, just like Break. Cards sent back to the hand will be reverted to their original state and fully healed.
However, if it returns a Dog to your hand, that Dog's cost will be reduced by 2. This can make Doggo even better with Annoying Dog, as that will be reduced to 0G with Doggo, making you able to summon it again for free and make the enemy end up with 2 Dog Residues in their hand. This is best used when the enemy has 5 cards, so 2 Residues is enough to make the enemy mill a card next turn.
Another use is with Greater Dog, whose cost will drop to 7 with Doggo. This is great if your Greater Dog is already pretty damaged and want to re-place it healed up to not waste more valuable cards like Asriel.
Doggo is especially useful for the Integrity deck when wanting to make the best use of Abilities - especially Magic. Popular cards to combo with Doggo are Alphys, Snowdrake's Mom, Dogamy, Dogaressa, most legendaries and damage cards like Vulkin. Dogamy and Dogaressa will even get the 2G drop, leaving each with 3G.
Card Skins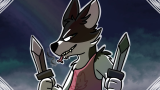 Community content is available under
CC-BY-SA
unless otherwise noted.