Flower Fingers were added in Beta 39.0. Previous Versions can be found here.
Flower Fingers are a powerful addition to a Plant deck by being a Plant itself with solid stats of 4/4 for 5G and the Magic effect of dealing 1 DMG for each ally Plant (meaning it will count itself, allowing it to always deal at least 1 DMG upon played). This can result in 1-4 DMG to a target of your choice, making it somewhat of a more flexable, but Tribe exclusive version of Scissor Dancer.
This can work very well with Asgore's Truck, released in the same update, as that will give 2 Green Flowers in your hand (which are 0G) and is able to kill itself easily by attacking with 3/1 and Haste so you can play a 3rd Plant before using this (as Truck isn't a Plant itself).
Card Skins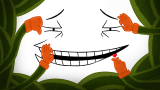 Mocking Flower (by Diamaincrah)