Fortune is Integrity's Basic Spell. Effect updates and description changes can be seen here.
Much like Golden Hit, Fortune makes you temporarily broke. As when used, you will lose all your gold. This is earned back when that turn ends, with an added 3G bonus.
This means that Fortune gives a 1G profit, but this gold can't be used on the same turn as the one you used Fortune on.
Card Skins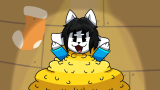 Golden Pile (by BlueKitty)