Gaster was originally an Epic monster and the only one able to give Gaster Blasters. Sans was later also able to give them, but they became exclusive to him (not counting other generated cards or Artifacts) when Gaster was turned into a Legendary in Beta 46.0. Previous Versions of Gaster can be seen here. Previous Versions of his Blaster can be found here.
Overview
Since Beta 55.1, Gaster is able to retrigger up to 2 of each of your successfully triggered Synergy effects during this game, similar to how Goner Kid copied one of each Future effect. Synergy is an effect also added in Beta 46.0 and became the replacement of Future for his Followers, making Gaster the Ace of a Deck featuring them, similar to how Muffet became the Ace of the also new Arachnid Tribe. However, unlike her, Gaster isn't a Follower himself.
Due to it only triggering Synergy effects, G Follower 1 has no impact on this. Redacted's Synergy will not affect Gaster, either.
Card Skins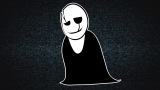 4th Wall (by Jacky Bunny - Fan Artist)
500 Error (GIF by Asrite)
Trivia
During testing, Gaster didn't have Haste as it was meant to actually be obtained from Redacted. But this didn't work properly, and it was decided to give him Haste by default.

However, if you triggered Redacted's Synergy effect and Redacted is still alive the next turn, if you use Gaster the Redacted you summoned the previous turn will get Haste again (making it unable to attack the opponent).
This still is the case even after the loss of Gaster's Haste in Beta 52.0.

Lost in the Moment skin was originally planned to be an image change to Gaster.