Golden Hit is an Integrity spell card added in Beta 27.0. Previous Versions can be found here.
When using it, you will use your gold as the damage source to an enemy monster of your choice. Any amount of damage that was over the amount needed, similar to Casual Undyne, will return to you as gold.
Because of this, using this card on a Mad Dummy while having 4 or more gold will make you end up losing only 1 gold in the end. Similarly, if this is used on a MTT Fountain, it will heal the opponent's HP by as much gold as you spent.
However, if Golden Hit is used on a card that has the ability to dodge, it will simply remove all your gold. However, the dodging monster can dodge one time less.
Card Skins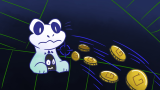 Froggit Golden Hit (by Asrite)