Jurassic World: Dominion Dominates Fandom Wikis - The Loop
Play Sound
Previous Versions can be found here.
Mettaton is an early to mid-game costing card with great durability, much like it has in Undertale. No matter what the attack of the opponent, Mettaton will only receive a maximum of 3 DMG. This means that even when it's targeted by something like Tsunderplane, Papyrus or a Gaster Blaster, it will only take 3 DMG as long as it's not silenced.
In this example, Tsunderplane's Dust is a seperate DMG source, so that will be dealt on top of the 3 DMG from its attack. This also means that 'randomly split' effects like those of Undyne and Undyne's Spears will still work normally.
A good strategy is applying Taunt to it, creating what is dubbed 'Mettataunt'. This can by done by anyone with the use of Glad Dummy, but Patience can do it the easiest with Protection. Keep in mind that Silence can ruin this plan, making Bravery the highest threat due to its access to Penetration. It can also be fairly good in Kindness to keep its HP up. If the conditions are right, Feast can also give it the +1 ATK it needs to prevent being killed by Muffet's Pet without the need for other ATK boosing monsters like Snowdrake, which is another big counter to it.
As said before, Mettaton is best stopped with Silence and killed with Muffet's Pet. Madjick's stat swap ability can also help setting things up to kill it.
Card Skins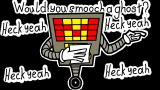 Heck Yeah (by Jake Horror)