Previous Versions can be found
here
.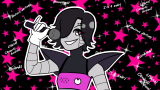 Mettaton Ex is a decent card with the ability to decrease the amount of gold from both players. It will decrease based on the gold you have remaining after playing it, leaving you with 0 gold.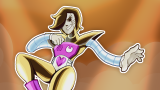 Combos
This can be especially useful if facing
Integrity
in the late game or if you suspect your opponent of saving up for something big like
Asgore
, or a DT Card such as
Frisk
or
Chara
.
Card Skins
Super Star (by Moonlightring)
TV Star (by Darky)