Jurassic World: Dominion Dominates Fandom Wikis - The Loop
Play Sound
Previous Versions can be found here. He got changed quite a few times. Even 4 in a row.
Overview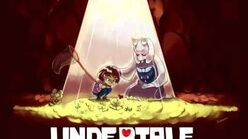 Papyrus is a good mid to end game monster, able to attack multiple enemy monsters in a single turn, but only if he ends up killing the monsters he attacks. Keep in mind that since Beta 55.1, he can't attack the opponent directly at all on his first turn.
This can make him incredibly useful, even with the nerf. Using him in the Kindness Deck is particularly useful, as it has many spells that allow you to to keep him healed up, while you can also use the more effective Pie, to prevent Papyrus from being damaged for one attack, due to Pie giving him +1 Dodge. (Royal Kindness allows all your monsters to be entirely invulnerable during the rest of the turn, but the total cost is very high and is a waste if used on Papyrus alone.) Using Veteran also allows him to gain +1 ATK after every kill, making him even more useful and dangerous.
An somewhat popular trick is to use Force Of Nature on Papyrus and then swap his ATK and HP Madjick to give Papyrus an enormous ATK stat, making it useful to finish off the opponent. However, as he no longer has Charge, this trick is less game-ending.
At 12G, using Red Bird can provide 1 of 4 monsters. Casual Undyne is the best result, as she also has Haste, thus able to make use of her right away, as well as a usable passive effect. Soulless Kris is -1/+1 from Papyrus with Haste (alongside Magic), making them the next best result. This is followed by Asgore as a 7/8 Magic, finally ending with Vine as a 7/7 with a passive that works in hand and reduces its own cost (which is pointless as it's already on the board) and requires Plants to use properly.
Card Skins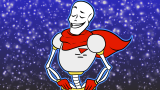 It's Fine (by Jacky Bunny - Fan Artist)
Just Whiped Out Snowdin Town (by Diamaincrah)

Only available during April Fools.
Trivia
His first 2 Card Skins/Avatars have tiny problems in their names.

"Cool Skeleton 95" is based on his UnderNet username, "CoolSkeleton95" (so without the spaces).
"Nyehehe" is based on his trademark laugh and Main Theme, "Nyeh heh heh!".