Jurassic World: Dominion Dominates Fandom Wikis - The Loop
Play Sound
Previous Versions can be found here.
Penetration is a Bravery spell card. Since Beta 52.0, it will Silence a single monster when used. It costs 1G, making it a useful card.
Silence removes all abilities and status effects, like Taunt, Dodge, Armor and Stat (de)buffs. (In the case of an HP debuff: Silence will bring the Max HP back up, but the current HP stays the same.) However, while Transparency can also be removed with Silence, many cards can't do so because of their targeting status, Penetration included.
Keep in mind that this spell will also remove negative effects like Disarmed, allowing those monsters to attack from that point on. (Paralyze and KR are also removed through Silence, but those are more associated with Patience and Perseverance respectively.) Also keep in mind that DT monsters like Frisk and The Heroine can't be silenced at all.
Card Skins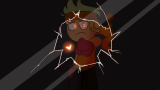 Cease your Taunts (by Oranjican)