Revealed
here
, Rouxls Kaard (pronounced "Rules Card" and RK for short) is the 3rd Deltarune and overal card shown for Beta 30.0. Previous Versions can be found
here
.
RK has the same passive effect as Frisk, making its owner immune to any DMG. However, unlike Frisk, it doesn't have the HP they have, but also not the cost.
Instead, when played, RK will add a Puzzle Box to the enemy's hand, making it similar to Annoying Dog when wanting to overflow their hand. This Puzzle Box is a simple 3G spell that, when used, will silence all enemy RK's, making you no longer invulnerable.
Because of this, it's not a good idea to place multiple RK's on the board at once, unless the enemy's hand is already full and as such, cannot obtain a Puzzle Box.
Avoid using Receptionist 3 if you find out that the oponent has this card by using Spy or Eye, since the puzzle box will not be added to your hand. This goes double if your enemy has taunt monsters on the board.
Card Skins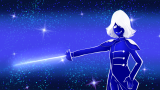 According to Plan (by Jake Horror)
Nobody Can Stop Him (by Diamaincrah)
Starlight (GIF by Jake Horror)
Trivia
Its Theme is sped-up from the OST, being at the same speed as during your 2nd encounter with RK in Deltarune.
Community content is available under
CC-BY-SA
unless otherwise noted.