Starwalker Bird was added in Beta 30.0. Previous Versions can be found here.
Starwalker Bird is a Common monster that, since Beta 47.0, has a Magic effect that only works if your deck lacks any Rare and Epic cards. Luckily, since Beta 53.0, Generated cards (those that didn't start in your deck, shown with a Gear Icon) don't count. So its effect will still work even if you have a Generated Rare in your deck.
On its own, it is a decent 5/5 for 6G. But through this restriction, since Beta 49.0, it lets you draw 3 cards.
This restriction is exactly like that of Starwalker (Ranger Rudinn before Beta 53.0), making them work very well together.
Card Skins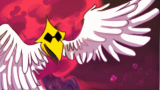 Flying Starwalker Bird (by Oranjican)
Community content is available under
CC-BY-SA
unless otherwise noted.