Jurassic World: Dominion Dominates Fandom Wikis - The Loop
Play Sound
Effect updates and description changes can be seen here.
General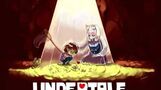 Undyne is a great monster that can quickly change the tide of war. She has fairly hefty pricetag, however with her ability to deal 8 damage split randomly upon the enemy monsters on the field, she can quickly kill off or weaken most of the enemy simply by entering play.
Because her effect actually deals 1 DMG 8 times, she is the perfect counter against Dodge enemies, as every time the effect targets them, it uses up one of their Dodges.
Combos
Best played when the enemy has a total of 8 HP among their monsters, so she can clear out the entire board. This can be improved with Papyrus Statue, which doubles the DMG each hit deals. Just be sure about if you do have enough to wipe the board, as monsters at an odd number of HP will cause the boost to somewhat get wasted as they'll end up at -1 HP.
She can also be used in combination with using Same Fate prior or Asgore after, but both cases are very expensive and are not adviced to be used unless absolutely neccesairy. although that comes at an enormous price of 28G.
This card is useful in most decks, however particularly so with Determination and Justice. The latter of which also has their passive for even more DMG afterwards.
Counters
Monsters like Mad Dummy cannot be killed by Undyne's ability as it distributes the attack 1 damage at a time upon the monsters. As such, Armor monsters block her effect entirely.
Card Skins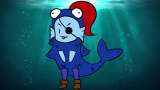 Sexy Fish (by Moonlightring)
Pirate Undyne (by Moonlightring)
Fish Goddess (by Jacky Bunny - Fan Artist)
Her Smile (by Diamaincrah)
Trivia
Beta 31.0 made her count as a Royal Guard.

Before Beta 46.0, she was the only Legendary with a Tribe.
Beta 46.0 added the Arachnid Tribe, in which Muffet is a part of since.
Undyne is one of multiple cards with a Skin limited to April Fools Day.

Undyne is also the only card with 2 Skins restricted to a holiday, the other being Halloween.
With July 2019 giving her a Skin Bundle, Undyne now has 3 limited Skins.

The Profile Skin of this Bundle is flipped from the Card and Avatar Skins.